Even though you might not have gone to get one in the last few weeks, the long-awaited "pumpkin spiced latte" made its debut in Starbucks all over the country, in addition to its partners in crime: Philadelphia's pumpkin spice cream cheese, Planter's pumpkin spice nuts, MIlano's pumpkin spice cookies, Quaker pumpkin spice oatmeal, the list goes on and on.
But because all of that is processed to the nth degree and kills our insides (too much?), perhaps we are seeking other options to get our "fix."
I know I am.
And while the image below depicts the notorious PSL as the most adorable, harmless fall beverage covered in its signature spice, it's nutritional facts next to it beg to differ its harmlessness.

And while the 49 grams of sugar, more than a usual soda, is bad enough… this year's PSL recipe has been upped by 1 gram! But it's okay. It has 5% more Vitamin A in 2016. So it's healthier (I hope you caught that sarcasm).
Anyways, I'm not here to bash the beloved latte, but I am here to offer an alternative, plus a few others to satisfy the craving.
Eating Bird Food blogger Brittany Mullins created her own recipe cutting the calories, diminishing the sugars and saving you from the unnatural (sounds like we're talking aliens… but one could argue…)
Her recipe, which you can find here, can be made with 7 simple ingredients:
8 ounces brewed coffee (or 1-2 shots of espresso)
½ cup unsweetened vanilla almond milk
3 Tablespoons pumpkin puree
1 teaspoon pumpkin pie spice
½ teaspoon vanilla
2-3 drops of liquid stevia (or sweetener of choice)
sprinkle of cinnamon
Tah-dah! Your very own recipe. For your very own Starbucks inspired latte. It'll help you SaveBucks, too.
If you're not into lattes and more into meals, snacks and desserts, good thing I did my research!

Pumpkin Spice Fettucine? Whaat?
That's what I said when I stumbled upon it, but then I thought "omg, that sounds weirdly delicious." 
It comes from Cookie and Kate. Cookie is Kate's dog who she says "occasionally picks up the crumbs." And she and Cookie give this recipe a THUMBS… up.
Made with pumpkin puree, rosemary, feta cheese and some other spices, this is just the interesting fall meal you've been searching for.
I know I'm trying it.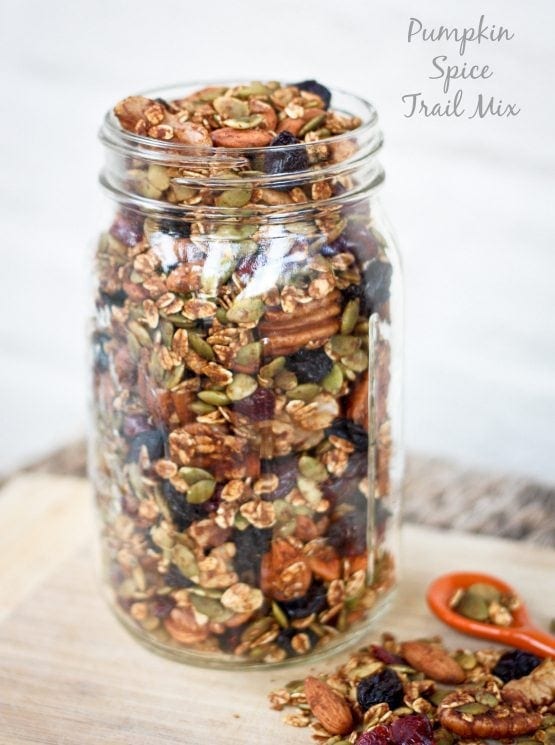 And from no other than Eating Bird Food again comes a bird food-esque snack: TRAIL MIX!
With a combination of pecans, almond, pumpkins seeds and puree, apple juice, spice and more, you can't say no to this autumnly protein-packed munchie. Takes 30-35 minutes to make and you're good to munch for a whole week or more (depending on how much you make!) Find it here. 
We've also got pumpkin spice cheesecake mousse!!
Who can say no to mousse!?!?! And cheesecake no doubt.
This recipe calls for either greek yogurt or cottage cheese; it's low in calories and sugar and you can even top it with gingersnaps. OH SNAP!

Next up we have pumpkin spice pancakes from "The Minimalist Baker." 
These vegan pancakes take 15 minutes total to make and look just. Wow.
If you're not into pancakes for breakfast and more into the grab-and-go, then lucky for you there are some pumpkin protein bars for your busy mornings!
Jenny Sugar from POPSUGAR Fitness came up with this recipe. If you haven't tried any of her company's workout videos, I'd pair this breakfast bar with one of her kick butt routines. They'll be sure to make you hungry afterwards.
If you're wondering why they look a little green in the photo, well, that's because Jenny used plant-based protein powder (pea to be exact), hence the green hue.
But even though they're a little green in color, the bars scream orange!
Fall is here and you need to get your pumpkin spice on.
Try any of these recipes and let us know what you think! (: